Prescription Sports Goggles
Contact sports, such as football, hockey, baseball and lacrosse, create an environment where blows to the head and eyes are possible, if not common. While for some this can be an issue, for those with inadequate eye ware can suffer much more serious injury if they play using their normal eye glasses. On the other hand, playing without corrective eye ware of some sort may be impossible for some, or expose others to more frequent contact if they are unable to see incoming players clearly.
Thankfully, technology has improved significantly surrounding sports goggles and prescription eye ware designed for contact sports. A series of goggles and wraparound glasses, designed to be highly impact resistant and to fit securely around the head or beneath a helmet, has made contact sports and ball sports a possibility for those in need of corrective lenses.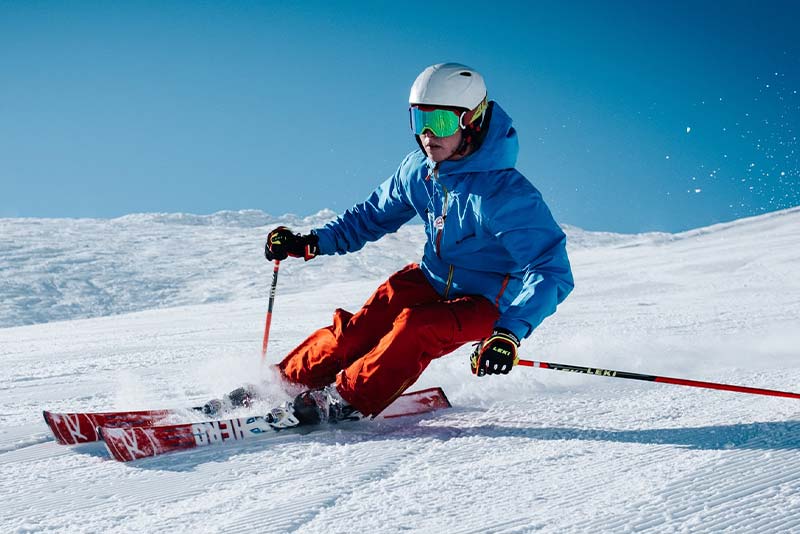 Some of the most important qualities to look for in sports goggles and prescription eye ware for sports:
High Quality Polycarbonate Lenses
This is the most important property of all protective goggles. Good polycarbonate is virtually unbreakable, and will easily deflect the impact of a ball or finger. 3mm polycarbonate is recommended to meet the ASTM safety standard. But there are also quality issues with polycarbonate. Low end polycarbonate will have significant distortion in the lens, reducing reaction time and impacting overall vision. Look for higher quality polycarbonate lenses to minimize distortion and provide the best eye protection from contact.
Durable Frame Design
The goggle or eyeglass frame must also be able to withstand the force of a ball or other impact. A frame made out of polycarbonate is still the best choice for sports goggles and sports glasses. Frames rated with ASTM F803 standard is the best option, as it is a government sports safety standard that encompasses all ball/stick sports. This rating also ensures lenses are the minimum 3mm thick polycarbonate for the best impact resistance.
Avoid Face Shield Designs
A popular choice for baseball is a shield design where the whole front of the frame is a lens made out of polycarbonate, with temples made of plastic or other material. Most shields, however, do not meet the ASTM safety rating for impact resistance. Shields are also unable to made in a prescription. Because shields sit so far from the face and are highly curved, massive measurements need to be done to compensate the prescription for the angles and distances a shield would have. We strongly suggest using polycarbonate goggles or sports glasses for most of our athletes.
Helmet Compatibility
Since helmets are required in most contact sports, the frame should be designed to fit securely under a helmet. Goggles that are specifically designed for helmet sports should be selected. Technology has made these types of goggles much more secure and much more affordable for even junior high and high school athletes, and should be worn by anyone in need of corrective lenses who intends to play contact sports.
Adequate Padding
The frame should have padding at the temple points and bridge points to cushion any blows or impacts stained to the face. Padding will absorb some of the shock to lessen the overall impact, and to help prevent injury to the bone structure and eye socket.
Adequate Coverage
The frame must cover the entire eye socket, not only the eyeball itself. Hard impact to any of the "soft" parts of the eye can cause serious damage. Look for a frame that sits closely to the face as well, as a finger can easily make its way through any gap. Shields can easily become dislodged so a finger can penetrate underneath. Be careful if choosing this option.
Lens Color
A clear lens is the best for general purpose use, and is the preference of many of our athletes. However, if you are playing frequently in bright sunlight or have some degree of light sensitivity, a gray tinted lens or polarized lens can be used to cut down on glare
Specialty Lenses and Goggles
Beyond contact sports, goggles and sports glasses can be made for speciality events such as swimming, diving, skiing, biking and other physical activities that might put your eyes at risk or make wearing traditional eye glasses an impossibility.
If you our your child are in need of speciality goggles or sports glasses to help you see clearer during your preferred physical activity, contact the Perrysburg Eyes center today at 419-874-3125 to schedule your appointment.
Additionally, free resources exist if you have a child in need of prescription goggles to play contact sports. The "Play Hard. Don't Blink." program provides qualifying children a free pair of prescription sports goggles for use in their extra-curricular activities. To see if your child meets the requirements for these free sports goggles, please visit the "Play Hard. Don't Blink." website at www.playhardgear.com